Informal Education Programs
Family Science Night at the National Air and Space Museum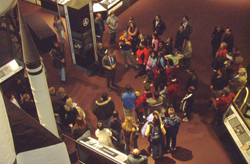 The Family Science Night program takes place at one of the most visited museums on the planet. Millions of visitors come each year to the National Air and Space Museum to see the machines that gave life to human dreams of flight in air and space.
A school field trip designed for family learning, Family Science Night is held after hours so that hundreds of students, parents, and teachers from Washington, DC, metro area schools may have the museum to themselves. Attendees explore galleries, experience the universe through IMAX films, and hear a presentation by a dynamic space scientist.
The presentation is the program's centerpiece, providing a very personal view of exploration on the frontier and the spellbinding, wondrously human stories behind the machines that changed the world. The program fosters wonderful opportunities for parents and their children to talk about science, our world, and the cosmos—it helps launch family learning.
Schools can choose from nine presentations and seven IMAX films, allowing educators to integrate the program into the curriculum. With the curricular connection, Family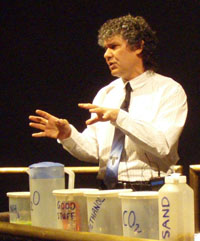 Science Night provides parents a window on the education of their children; schools a way to build bridges to the community; the Museum a chance to augment the classroom experience with their unique collections, exhibits, films, and educational programs; and researchers an opportunity to share what it's like to work on the great frontiers. Since it began in 1993, more than 164 programs have been held at the Museum, reaching more than 55,000 parents, students, and educators from 200 schools representing 13 area school districts. The last four DCSGC supported Family Science Nights reached 1,282 participants.