Pre-College Programs
INSPIRE Space Camp for Educators Program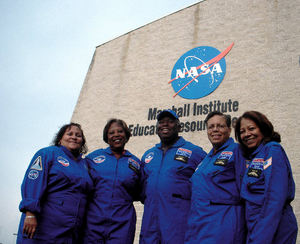 This program supports teacher training at Space Camp. The INSPIRE Project teamed up with the NASA Marshall Space Flight Center, the US Space & Rocket Center, Washington Space Business Roundtable, EADS, International Launch Services and Patriots Technology Training Center to offer DC science educators and administrators full scholarships to Space Academy for Educators - a 5-day program for teachers from around the world to participate in 45 hours of intensive classroom, laboratory and training time. Focusing on space science and exploration, the educational program includes authentic astronaut training simulators and activities developed to promote learning in a classroom setting. The curriculum includes NASA content and is correlated to the National Science Education Standards. This hands-on program equips teachers with knowledge, activities and curriculum materials (via their own website with lesson plans) to excite, engage and attract elementary, middle and high school students to the STEM disciplines.
Model Secondary School for the Deaf Outreach Program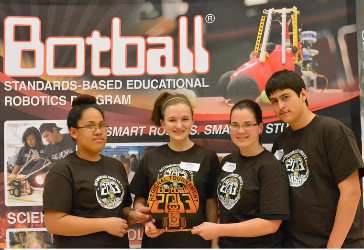 This program supports high school science teachers at a school for deaf students to incorporate robotics, Botball, and Space Camp activities into their classrooms. Two teachers and seven students from the Model Secondary School for the Deaf (MSSD) participated in the 2015 Botball and Deaf Space Camp activities. One teacher, a university faculty mentor, and three students participated in the 2015 Greater DC Regional Botball Tournament at Mt. Vernon High School Gymnasium in April 2015. John Thuahnai (MSSD) and David Snyder (GU) were the team mentors. Out of 29 teams, the students were 4th in the seeding round and 4th in the double elimination competition. The Botball mentor taught several programming and robotics courses this year in connection with these activities, and that required new software that was supported by Space Grant. One teacher and four students from grades 9-11 from MSSD attended Deaf Space Camp from April-May 2015 at the U. S. Space and Rocket Center in Huntsville, Alabama. Emily Schreiner (MSSD) was the team mentor. Every year, the Center dedicates a week to students who are deaf or hearing impaired. This is an opportunity for the students to not only be challenged by the Space Camp activities but also to become acquainted with other deaf students from around the country. Deaf Space Camp exposed the students to work in the space program and high technology and challenged them to broaden their skills and view of working in STEM fields.
Student Spaceflight Experiment Program
This program provided curriculum and programming support for 27 teachers (and their 1,100 students) to participation in Mission 3 of the Student Spaceflight Experiments Program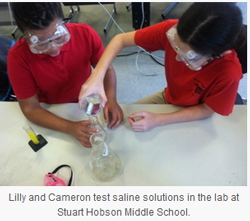 (SSEP). SSEP was launched in June 2010 by the National Center for Earth and Space Science Education (NCESSE) in strategic partnership with NanoRacks, LLC. It is a national Science, Technology, Engineering, and Mathematics (STEM) education initiative that gives typically 300+ students across a community the ability to design and propose real microgravity experiments to fly in low Earth orbit, first aboard the final flights of the Space Shuttle, and then on the International Space Station—America's newest National Laboratory. Stuart-Hobson Middle School in DCPS had 420 students participate in the flight experiment design competition. We had 90 project proposals (double from Mission 1) submitted across grades 6-8. The mission patch art and design competition was opened to all 3 of our campuses and reached all students grades PreK-8. The elementary schools in the Capitol Hill Cluster (which includes Stuart Hobson Middle School) participated in the Mission Patch art and design competition.